MGP has become three dirty letters that stand for sourced.
If a new whiskey brand tastes of high-rye bourbon or grassy dill rye — and says "Bottled in Indiana" — you know it's likely from MGP. The company's facilities, including its massive Indiana distillery formerly owned by Seagram's and LDI, supplies much of the industry's sourced whiskey and vodka. This includes around 80-85% of the market's rye, according to MGP estimates.
Purists bemoan when large-batch spirits are purchased and passed off as craft. And there's entrepreneurs who buy MGP stuff and mar the product with bad branding, poor finishing or misleading statements of origin.
While these are not MGP's fault — it's just a business that sells premade spirits — that has not stopped some consumers from criticizing the company. Perhaps for this reason, and out of courtesy of its customers, MGP has stayed largely out of public view. Its vast, Willy Wonka Chocolate Factory-esque distillery has remained closed off, even from journalists.
That has changed. MGP recently ditched its low profile and opened the doors for media in Indiana, as the company launches its own whiskey and vodka brands. While there were no Oompa Loompas in this sprawling facility, there was plenty celebrating the site's distillation history in Lawrenceburg, Indiana, which dates back to the early 1800s.
The new MGP house brands include Till Vodka, George Remus bourbon, Rossville Union Master Crafted rye, and the Indiana-only blended bourbon Tanner's Creek. Till launched in 2016, Remus in 2017, and Rossville hit markets this past May. You won't find "MGP" printed on their labels, but the company is forthright in press materials about owning these brands.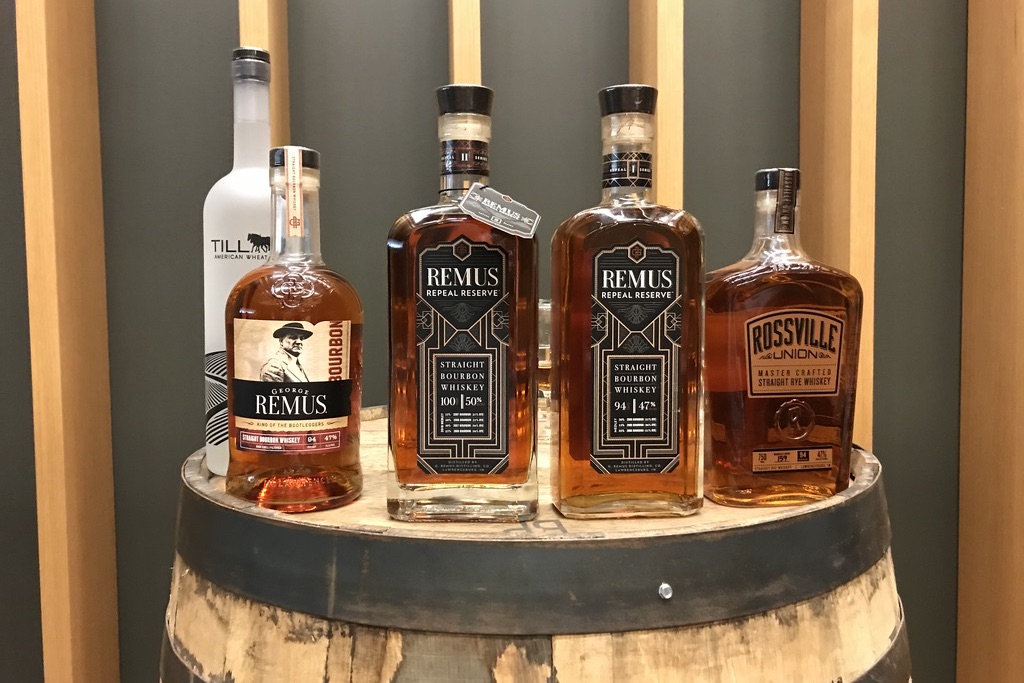 Which raises the question: How does MGP differentiate these products from spirits sold to third parties? After all, the sourcing side of the business continues. And the distillery is known for its recognizable rye and bourbon taste profiles.
The strategy is premiumization. MGP's new brands target craft consumers. Rather than younger spirits that can be common among sourced products, these are older whiskies. The base George Remus bourbon is 5-6 years old and retails for around $45. George Remus Repeal Reserve, a limited-batch series released every year on the eponymous bootlegger's birthday, is 11-12 years old and retails for between $79-$89.
MGP believes this reflects current consumer trends. "The premiumization of the product follows the premiumization of the consumer palate," explained Andrew P. Mansinne, VP of brands for MGP. "Where we feel we can compete most directly is on the high-end. Through premiumization we think we can catch up to the market. And we don't want to step on the toes of our customers, so we're using different mash bills."
To that end, the bourbons and ryes do contain trademark MGP flavors, but with more nuance and complexity than typical 1-3-year-old sourced stuff. Remus Reserve Series II, releasing Nov. 13, upped its proof to 100, which ironed out the slight unevenness of Series I (94 proof).
The two Rossville ryes are 94 proof and cask strength at 112.6. Neither sports a sharp rye bite. During lengthy taste-testing, Mansinne said a common consumer complaint was that rye "hurts." So MGP blended together two notably smooth ryes. The Barrel Proof goes down particularly easy. It's the standout among MGP's brands, along with the tasty Remus Reserve Series II.
Emphasis with Till Vodka was showcasing its Kansas-wheat flavors. That brand and the whiskey lineup (minus Tanner Creek) are currently available in 12 markets. Mostly these are in the Midwest, plus California and Colorado.
Inside MGP's Indiana Mash Room from kyle swartz on Vimeo.
Soon enough you may not need the golden ticket of a press pass to peek inside MGP's sprawling distillery. In the age of alcohol tourism, Mansinne says consumer tours are in the plans, once the company "gets its brands right."
Which, when combined with these new house brands, should go a long way towards making MGP three letters that stand for quality.
Kyle Swartz is editor of Beverage Wholesaler. Reach him at kswartz@epgmediallc.com or on Twitter @kswartzz or Instagram @cheers_magazine. Read his recent piece 9 Virginia Distilleries To Watch Out For.