Covid-19 has forced rapid adaptation by Southern Glazer's Wine & Spirits and the whole middle tier. Suddenly, common practices for both warehouses and drivers were potentially dangerous for spreading the virus. An entire new way of conducting business was necessary overnight.
Nearly a year later from those first scary days of the health crisis, the world remains in the grip of Covid-19. Wholesalers and distributors have implemented many new ways to maintain safety. For a look at how this segment of the industry has changed with the pandemic, we recently spoke with Bobby Burg, Southern Glazer's SVP Operations & Chief Supply Chain Officer.
Beverage Wholesaler: What's the current state of the middle tier amidst the health crisis?
Bobby Burg: From a health and safety perspective, until everyone has enough vaccinations, our costs will continue to rise because we have got to do a lot of things to keep people safe. It's a big effort.
There's a lot of equipment that needs to be continuously cleaned, sometimes on an hourly basis. This includes handheld RF guns, scanners, walking and riding equipment, lift equipment, shrink wrap — even though we're also taking all the precautions with everybody coming in.
Though there are silver linings in all this. The demand for warehousing and last-mile logistics has ballooned because there's so much more demand now than supply. The market cannot get enough warehousing staff or drivers.
BW: How are you attracting staff during this pandemic?
BB: We've been relying on a lot of the same things as before. Really good benefits and working conditions, plus opportunities for advancement.
The truck driver shortage has been around for a long time, before Covid. In 2019 the industry was 70,000 drivers short. Now we're 100,000 short, which has caused pricing to go up.
Our staff has been in good shape. We have 6,500 employees on the operations side, with 90% full-time. We've always been a stable company. People see it as a good career move.
BW: How is Southern Glazer's protecting drivers?
BB: Back in March we instituted a lot of operational changes. All the equipment in the truck gets cleaned prior to the driver getting in, so that the driver doesn't have to come inside and get any of it. We instituted a drop-and-stop approach so that the trucks come up to the customer's loading dock and drops off the goods, so that the driver spends the least amount of time at each account.
For the larger accounts we try to do deliveries during the off-times — early morning or late at night — when there are fewer people in the store. That also goes for our merchandising teams.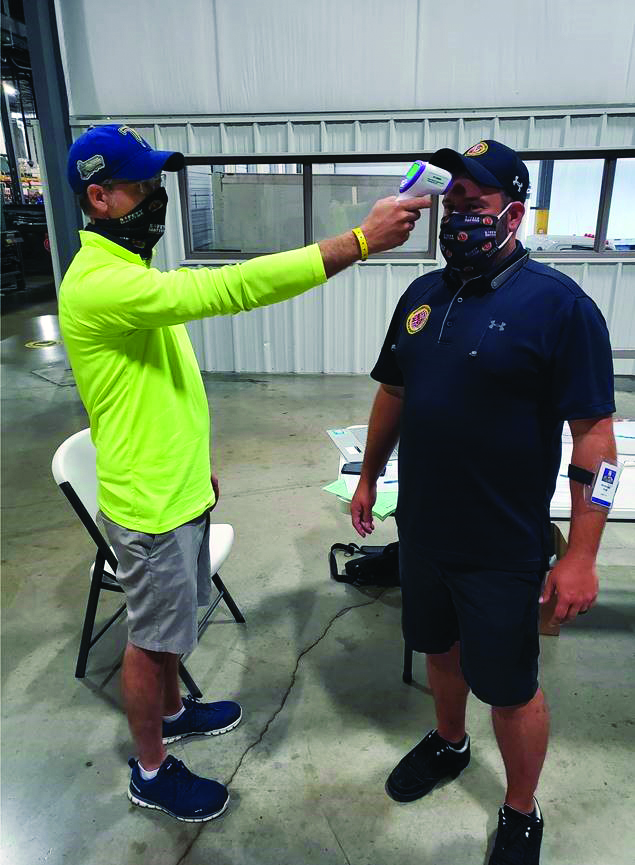 All accounts must have stated and approved Covid safety practices in place. We've reviewed thousands of accounts this past year for safety, and we reevaluate them on a regular basis.
At the warehouses, we have single-use equipment that's assigned daily. Nothing like that is shared anymore.
We stopped shipping bottles between March and July of last year because on-premise was mostly closed. People work in close proximity in the bottle room, so once those reopened, we limited zones of working for individual people. Those employees also have advanced PPE — that's the only place where face shields are required to work.
We're an essential business that's operated nonstop since March. And our sales, merchandising, drivers and warehouse staff have worked in the warehouse or out in the marketplace since the beginning.
BW: Covid-19 has changed business by driving rapid ecommerce growth.
BB: A lot of people have completely changed their buying patterns. We were fortunate as a company. We started an ecommerce initiative years ago. Because of that we now find ourselves so much more far ahead of the competition. At the time we obviously had no idea of the future impact, but it put us in a terrific position to be more agile when things started happening last February and March. A huge amount of business has been done online this year.
BW: What have you seen in terms of on-premise damage?
BB: We started the first part, May through June, with on-premise being down 90%, year over year. In the last 10 months, it's back to about 45% to 50% down. It depends on the market and the crisis of the day.
BW: What's next with the industry and Covid?
BB: We're looking into summer, if not the end of summer, before we see normality — or a post-Covid version of normality.
This interview was edited and condensed for publication.
Kyle Swartz is editor of Beverage Wholesaler. Reach him at kswartz@epgmediallc.com or on Twitter @kswartzz. Read his recent piece 10 American Whiskey Trends in 2021.